Accommodations at
Yosemite Blue Butterfly Inn
- 2 Night Minimum Stay -
Please click to see our rooms...
The Sunflower • The Lotus • The Meadow Lily
The Glasgow Rose • The California Poppy
The "Sunflower" Penthouse Suite
An Artist's Aerie Theme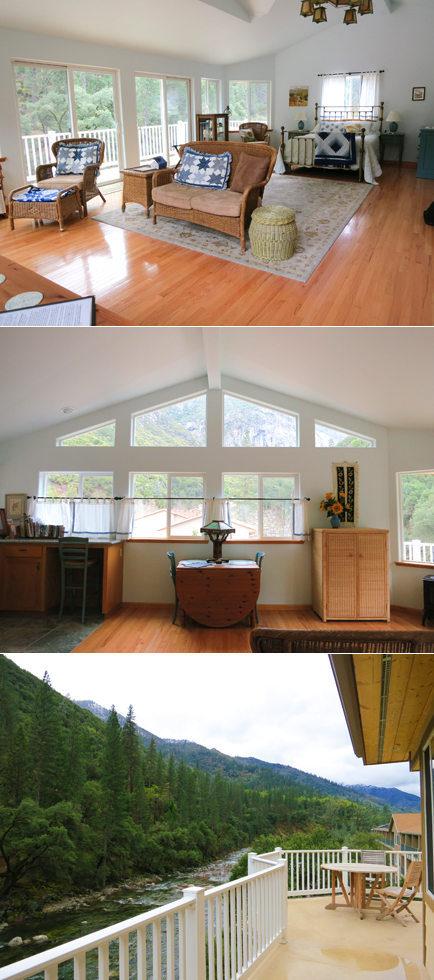 A romantic 'artist's studio' penthouse suite with spectacular views of granite cliffs and the Merced River. Dining area, refrigerator, private bath with tub and shower, and large private top floor deck. (Note: "The Sunflower" is on the 3rd floor...we do not have an elevator.)
Free, 24 hour wireless internet access in guests' rooms, on guests' computers
Queen Size Bed
Full Gourmet Breakfast
Two night minimum
$350 per day + tax
Room rates (above) plus 13% required county lodging tax, (subject to change)
To check on availability or make a reservation call 209 379 2100 (between 9 am. and 8 pm., California time, please) or, preferably, email us : yosbbinn@att.net
The "Lotus" Suite
In the Art Deco Style/Second Floor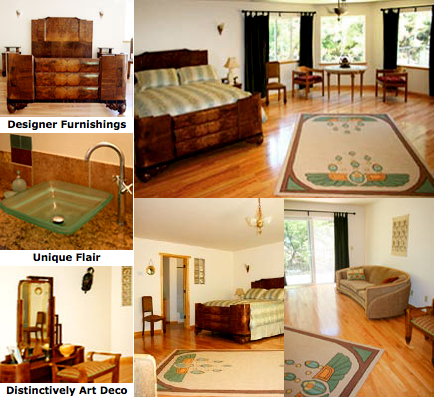 Authentic period furnishings, lighting fixtures and accessories, spacious suite with Jazz age features, deck on the Merced River. Private bath with tub and shower. (We do not have an elevator.)
Free, 24 hour wireless internet access in guests' rooms, on guests' computers
Queen Size Bed
Full Gourmet Breakfast
Two night minimum
$280 per night + tax
Room rates (above) plus 13% required county lodging tax, (subject to change)
To check on availability or make a reservation call 209 379 2100 (between 9 am. and 8 pm., California time, please) or, preferably, email us : yosbbinn@att.net
The "Meadow Lily" Suite
In the English Arts & Crafts Style/Second Floor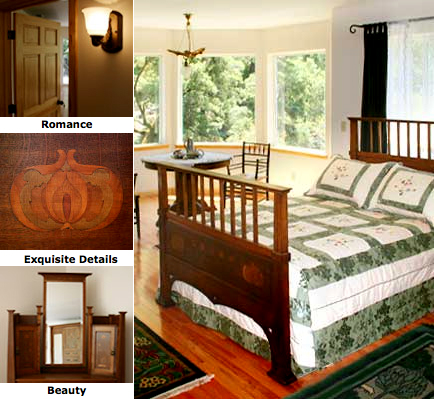 Elegant antiques, furnishings, fabrics, and accessories from England in the style of William Morris, Voysey, and Liberty of London. Private bath with tub and shower, fabulous views, deck on the Merced River. (We do not have an elevator.)
Free, 24 hour wireless internet access in guests' rooms, on guests' computers
Queen Size Bed
Full Gourmet Breakfast
Two night minimum
$280 per night + tax
Room rates (above) plus 13% required county lodging tax, (subject to change)
To check on availability or make a reservation call 209 379 2100 (between 9 am. and 8 pm., California time, please) or, preferably, email us : yosbbinn@att.net
The "Glasgow Rose" Suite
In the Scottish Arts & Crafts Style/Ground Floor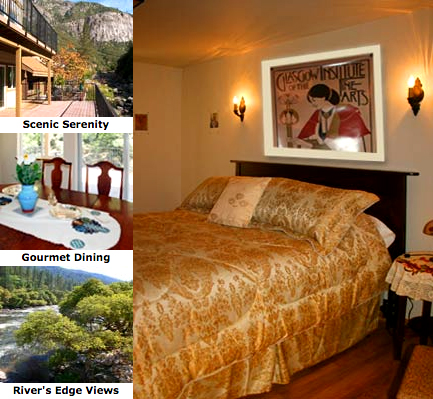 Romantically decorated in the style of C.R. Mackintosh, turn of the century Scottish designer. Unique furniture, fabrics, accessories and artwork in the Mackintosh style. Private bath with large stall shower.
Free, 24 hour wireless internet access in guests' rooms, on guests' computers
King Size Bed
Full Gourmet Breakfast
Two night minimum
$250 per night + tax
Room rates (above) plus 13% required county lodging tax, (subject to change)

To check on availability or make a reservation call 209 379 2100 (between 9 am. and 8 pm., California time, please) or, preferably, email us : yosbbinn@att.net
The "California Poppy" Suite
In the American Arts & Crafts Style/Ground Floor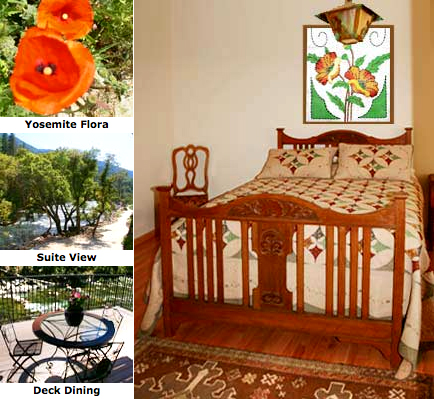 Lovely river view, antique furnishings, bright poppy accents. Private bath with large stall shower.
Free, 24 hour wireless internet access in guests' rooms, on guests' computers
Queen Size Bed
Full Gourmet Breakfast
Two night minimum
$250 per night + tax
Room rates (above) plus 13% required county lodging tax, (subject to change)

To check on availability or make a reservation call 209 379 2100 (between 9 am. and 8 pm., California time, please) or, preferably, email us : yosbbinn@att.net